Who are we?
Starseed Hub can be found at https://www.starseedhub.com

We are a group of 3 visionary starseeds from Europe. Each of us has a passion for seeing starseeds worldwide become (more) able to find each other without any effort at all! We all share a vision of world peace, potentially leading to what has often been referred to as "Full Disclosure" regarding our Interstellar Family-members.  In order to allow this into manifestation — WE genuinely believe that we (humanity) will need to 'disclose' ourselves first. So we came up with this 100% no-nonsense platform, which simply does what it needs to do; offer you a place to 'put yourself on the map' and to find others who are on that same wavelength with you – so you can find each other and expand your consciousness together!

For practical and Starseed-Hub related topics → please go to our Facebook group "StarseedHub" and post any questions you might have and/or share your story there.

If you simply cannot contain your gratitude towards us for coming up with this idea (understandable ;)) OR if you wish to share your 'found-a-friend-success-story', you can contact us personally at:  info@starseedhub.com


Starseed Hub is an initiative by:

Wieteke Koolhof  (concept initiator)
Douwe Beerda (co-creator)

Development by:
Leif Arne Storset
What personal data we collect and why we collect it
When you register as a member of this site, we store your email address, so our website can recognize you as a 'member' when you return to this website.
WE will not share your email address with anybody else. But if YOU choose to fill your email address out in your registration form, below the segment with the heading: 'let others know how they can connect with you' — then obviously your email address (with your consent) is available for other members of this website to reach out to you.
Your profile & profile picture or Gravatar/Avatar
If you wish to see the map and wish to be listed on it yourself, you will have to fully complete your profile (and fill out all the fields marked as "Required").
Profile information you filled out will be visible to all other members of the website.
An 'anonymized string' created from your email address (also called a 'hash') may be provided to the Gravatar* service to see if you are using it.

* Gravatar stands for Globally Recognised Avatar. It is a web service that allows users to upload a personal online avatar / profile picture and associate it with their email address. The avatar that is uploaded to the Gravatar website is then called a Gravatar.

See also the Gravatar service's privacy policy. This Gravatar will be shown with your profile information, unless you upload another avatar.
If you upload an avatar to the website, we recommend you avoid uploading images with embedded location data (EXIF GPS) included.
Visitors to the website can download and extract any location data from images on the website.
Your (approximate) location
If you wish to see the map and be listed on it, you need to give us (at least an indication of) your location. Your location will be visible to all other members of the website as latitude/longitude co-ordinates. It will also be sent to Google Maps (without connecting it to any other personal information) in order to help you define your specific address or general location. This address will be stored by our website, but will not shared with anyone else.
If you feel shy about sharing your actual address, feel free to simply fill out a location some distance from where you actually live.
That way, you can avoid disclosing your exact location, while still giving other members a sense of how close you are to them.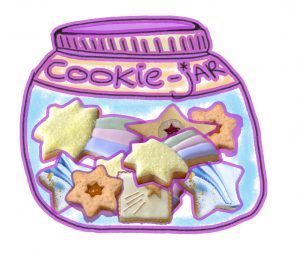 Cookies (all vegan, gluten-free and starseed-proof)
Of course we are talking digital cookies here – but we just couldn't help ourselves and had to add some 'Chocolate-chip and Almond-Oats' cookie remarks in here 😉
These remarks have been put in brackets ( this is an example of a text in between brackets ) so you clearly know where we are talking serious business, and where we are just having a bit of fun with the word 'cookie' and the tasty way wherein it can also be understood in our language. Just so you know 😉 

When you visit our login page, we will set a 'temporary cookie' to determine if your browser accepts cookies (this particular one is not to eat – just to look at and admire for a bit – which is probably better anyway as it contains a shit-ton of sugar). This cookie contains NO personal data and is discarded as soon as you close your browser.
When you log in, we will also set up several cookies to save your login information and some preferences.  Login cookies last for two days (clearly you should eat them before, we think otherwise they will melt, and may possibly start to smell funny). Preference cookies last for a year (we thought it a good idea to have the cookies you prefer the most – last the longest! :D) If you select "Remember Me" in the website's menu, your login-cookie will persist for two weeks (and not smell funny or melt any sooner!) As soon as you log out of your account, the login cookies will be automatically removed.
For the safety of your data, and to avoid automated attacks on this website, we have activated Google's ReCAPTCHA services on certain pages (such as signing up, or signing in).
This service detects Google cookies and leaves its own cookies (apple crumble and mint-chocolate-chip). While you are on these pages, ReCAPTCHA will analyze your browser and behavior in order to determine that you are in fact human (and able to eat the cookies). None of your personally identifying information will be shared.
We use a cookie to show success and failure messages to logged-in users in response to certain actions. (Success = cherry/chocolate 😀  | Failure = sauerkraut/strawberry… :S )
These cookies contain no personal data, and are deleted immediately after the next page load. All the above-mentioned cookies are strictly necessary for the simple functioning of this website and the protection of our member data, and therefore do not require your prior consent.
Sign in using social networks
If you wish, you may sign up or sign in using an identity from another service (such as Facebook or Google). While signing up or signing in, we are given temporary identifiers to your account at the external service, and the other service will know that you are using Starseed Hub. Once the authentication process is complete, NO cookies or other information will be exchanged with these other services. 
Analytics
We do not perform analytics at this time
Who we share your data with
Your location is sent to Google Maps (without connecting it to ANY of your other personal information) in order to look up an address & to help you define your location.
To avoid automated attacks on this website, we share your usage patterns with Google's ReCAPTCHA service on certain pages. See our ReCAPTCHA policy above.
Where we send your data
As outlined above, we share your data with certain services from Google. Google may store some data outside the EU. Google is certified to do so under both the EU-U.S. and Swiss-U.S. Privacy Shield frameworks.
How long we retain your data
We keep the information you supply, until you decide to delete it (which you can do at any given moment, by editing your profile or deleting your account).
What rights you have over your data
If you have an account on this site, you can see, edit, or delete your personal information at any time. The only exception to this is your username, this you cannot change. 
If you wish to use another username, you will have to create a new profile altogether and delete the old one. Website administrators can also see and edit your information, which we would only do if you specifically asked us to.
You can request to receive an exported file of the personal data we hold about you, including any data you have provided to us. You can also request that we erase any personal data we hold about you. This does not include any data we are obliged to keep for administrative, legal, or security purposes.

OK that's it – we wish you a wonderful time on the HUB!